Mahwash Mukhtar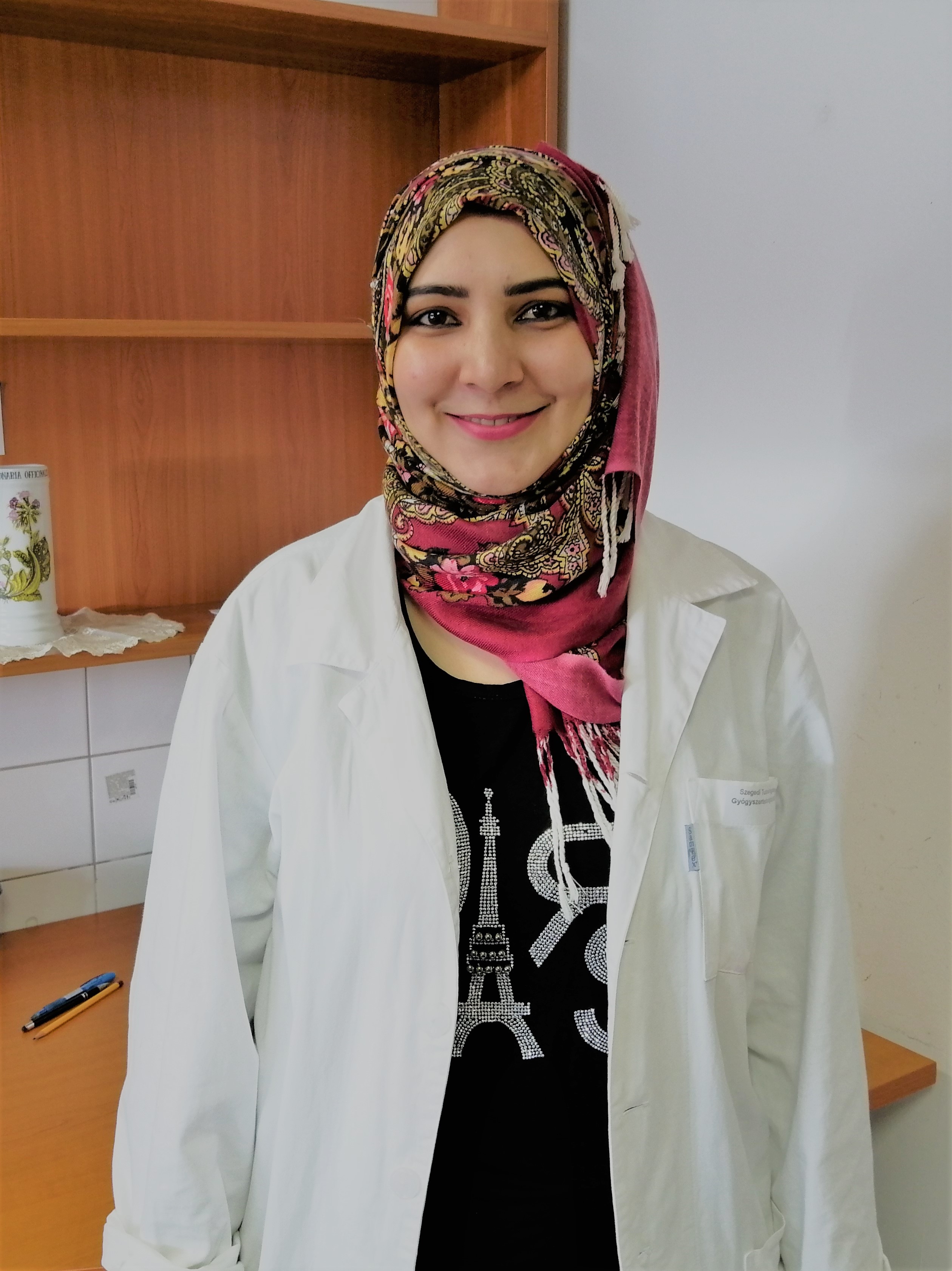 Email: Ez az e-mail-cím a szpemrobotok elleni védelem alatt áll. Megtekintéséhez engedélyeznie kell a JavaScript használatát.
Ez az e-mail-cím a szpemrobotok elleni védelem alatt áll. Megtekintéséhez engedélyeznie kell a JavaScript használatát.
QUALIFICATIONS
Doctoral studies
Institute of Pharmaceutical Technology and Regulatory Affairs, Faculty of Pharmacy, University of Szeged, Hungary (September 2018-2021 (Current field of research: Nano-mediated pulmonary drug delivery)
Post-graduation
M.Phil Pharmaceutics: Quaid-i-azam University, Islamabad, Pakistan (2015-2017)
Thesis topic: (Fabrication of Dexamethasone loaded Eudragit® S-100 coated Mannosylated Chitosan nano-carrier system for the treatment of Inflammatory Bowel Disease)
Graduation
B.SC: The University of Lahore (2014)
PHARM-D: The University of Lahore, Pakistan (2010-2015)
Certificates and Awards
Shaheen foundation award and scholarship, Pakistan
WWF certificate (animal care)
Annual stipend from fauji foundation, Pakistan
QAU fellowship for M.phil
FEWS scholarship for M.phil
Stipendium Hungaricum scholarship for PhD
Languages
Urdu (Mother tongue)
Arabic (Basic level)
German (Basic level)
English (Advanced level)
Skills
Firm grip on MS-Office applications including Ms-Word, PowerPoint and Excel.
Able to use Softwares; Design Expert, STATA, SPSS
Sigma Plot, Chem Bio Draw, Coral Draw
Conferences
Health trigon summit 2013, Pakistan
Participant of medical writing competition on medilol.com
Part of youth mobilization campaign Pakistan
1st International Conference on Biotechnology, (ICB), Lahore, Pakistan (Poster)
2nd International conference in recent innovation in Pharmaceutical Sciences, Islamabad, Pakistan (Poster)
3rd International Health trigone Summit, Lahore, Pakistan (Presentation).
3rd International Symposium on Scientific and Regulatory Advances in Biological and Non – Biological Complex Drugs: A to Z in Bioequivalence (Budapest, Hungary).
12th Central European Symposium on Pharmaceutical Technology and Regulatory Affairs (Szeged, Hungary)
Publications
Zeeshan, M., M. Mukhtar, Q. U. Ain, S. Khan and H. Ali (2019): Nanopharmaceuticals: A Boon to the Brain-Targeted Drug Delivery. Pharmaceutical Formulation Design-Recent Practices, IntechOpen.
Zeeshan, M., H. Ali, S. Khan, M. Mukhtar, M. I. Khan and M. Arshad (2019): Glycyrrhizic acid-loaded pH-sensitive poly-(lactic-co-glycolic acid) nanoparticles for the amelioration of inflammatory bowel disease. Nanomedicine 14(15): 1945-1969.
Mukhtar Mahwash and Ambrus Rita (2019): Pulmonary drug delivery: Role of antibiotic formulations for treatment of respiratory tract infections. Acta pharmaceutica Hungarica 89(2):43-62.
Referees
Dr. Rita Ambrus, Institute of Pharmaceutical Technology and Regulatory Affairs, University of Szeged, Hungary, email:

Ez az e-mail-cím a szpemrobotok elleni védelem alatt áll. Megtekintéséhez engedélyeznie kell a JavaScript használatát.

, phone (+3662) 545575
Dr. Hussain Ali, Department of Pharmacy, Faculty of Biological Sciences, Quaid-i-Azam University, Islamabad 45320, Pakistan, email:

Ez az e-mail-cím a szpemrobotok elleni védelem alatt áll. Megtekintéséhez engedélyeznie kell a JavaScript használatát.

, phone (+92 51 90644021)